—
FOCUS ON WINNING, NOT LOGISTICS
Let's face it: winning the European Champion Title at the Startup World Cup & Summit isn't easy. But the way I see it, the only challenging part should be your on-stage performance, says Domi Prekopová of the SWCSummit's core team.
What should be a breeze for you, on the other hand, is the trivial but necessary things like finding accommodation close to the venue, getting around Prague, or having the actual presentation in top shape. This is when my colleagues and I step in and provide a helping hand.
What kind of support can you expect from us? Once you make it out of your regional finals, either by winning it or by getting a wild card from us, you're among the thirty-two most promising startups of the continent. Rest assured we'll treat you accordingly!
"YOU'RE AMONG EUROPE'S 32 BEST STARTUPS. REST ASSURED WE'LL TREAT YOU ACCORDINGLY!"

Domi Prekopová
Startup Coordinator at Startup World Cup & Summit
In the weeks and days prior to the event, I want us to be in as close contact as possible. Not because I'd want one of the startups to win more than another, but because our entire team's goal is to keep raising the quality bar of everyone who competes at our events. Whatever it is that you'd like to have clarified before leaving for Prague, we'll be here for you. You can email me or my colleague, Sára, or give us a call anytime.
As a part of the pre-event package, we'll share with you our recommendation on which hotel to book, how to get there from the airport, which ride-sharing service to use, and all other logistic details.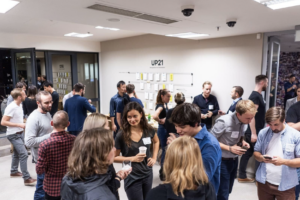 WE HAVE 2 FREE TICKETS FOR EVERY COMPETING STARTUP.
You can also look forward to two free tickets to the SWCSummit for whoever you want to take with you and discounted tickets if your entire team or family are joining to support you – and have a great time in Prague at the same time. On top of that, if we still have some Startup Stands left, we'll put a friendly price tag on them for you as well.
Last but not least – the SWCSummit's main copywriter, Filip Malypetr, is preparing a new product for founders who're coming to compete at the event. With his help, you'll be able to show up in Prague with a perfected pitch and polished presentation even if you're not a native English speaker.